Akwaeke Emezi (Nigeria)
is an Igbo and Tamil writer and filmmaker based in liminal spaces. She was born in Umuahia and raised in Aba, Nigeria. Her work is often set in a landscape of disquietude, excavating the surface to reveal forces of psychosexual dislocation and violence.
Bongani Khoza (RSA)
I was born on the 25th of July 1985 and grew up in the neighboring Johannesburg town of Tembisa. I graduated with a BA in Fine Arts in 2007 at Wits school of Arts, University of the Witwatersrand. I am currently registered for an MA in (Fine Arts) by course work and research report.
I consider myself as an experimental- docu-video artist, animator and photographer. I believe in creating documentary style experimental video installations focusing on the interdependencies and segregations evolved in modern day South African life.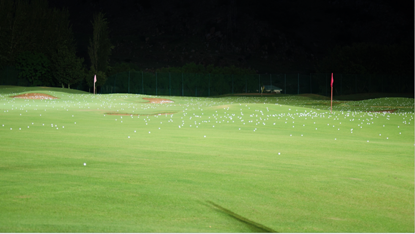 Chrisantha Chetty (RSA)
I have a background in Business and Architecture and although studying and working in these fields taught me what I don't want to do in my life, it influences the work that I do, and that I aim to do. I am in my final year of studying Fine Art and am working in various media including: video, performance, relation and collaboration (across disciplines). Collaboration and the digital are growing influences in my work. I aim to make my work easily accessible as I am increasingly concerned about the exclusivity of the art economy/world/public.
Temba Middelmann and I have been collaborating on exhibitions and business for the past two years. We have funded, curated and exhibited in two exhibitions as well as started an entrepreneurial venture called Be Feel Do. Earlier this year I funded and threw my first solo exhibition where I invited people to collaborate with me. I am a self-taught clothing designer and make up artist and have worked on independent films and music videos, doing makeup, wardrobe and catering. I enjoy incorporating a variety of practices within my processes. I aim to open people up to alternative ways of seeing, experiencing and understanding.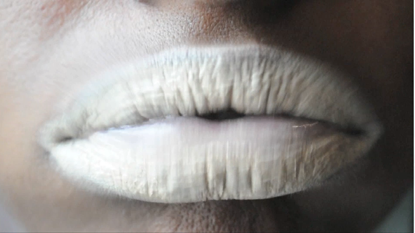 Erick Msumanje (Tanzania)
Erick Msumanje, received his Bachelors of arts degree at Hampshire College's film,photography, and video program. As an award-winning filmmaker and recipient of the highly-competitive Princess Grace Awards, he strives to push the boundaries of expressive cinematography, aesthetics, and storytelling. His other recent work includes a short film called My Mother's Songs (2013) which examines inter-generational trauma through the eyes of several young women in Tanzania. Secondly, The Journey (2012) examines racism and violence from the perspective of a little boy. His work has screened at film festivals, online platforms, and television. Lastly, he is a San Diego Fellow pursuing his MFA in Visual Arts at the University of California, San Diego.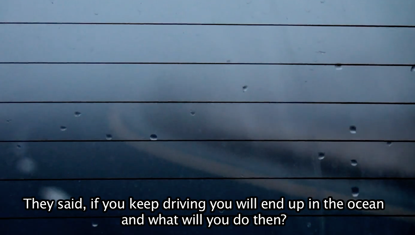 Ezra Wube (Ethiopia)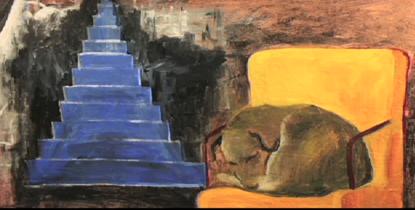 Justine Gaga (Cameroon)
Justine Gaga, est née en 1974 à Douala de père photographe et de mère ménagère.
Elle vit et travaille à Douala, et s'y investie aujourd'hui dans le projet ArtBakery. Justine Gaga après ses études secondaires, fait son apprentissage dans les ateliers de sérigraphie, puis à l'atelier de Vicking, formateur initial de plusieurs jeunes plasticiens à Douala, auprès de Pierre Metambou à Yaoundé (photographie et arts graphiques) et enfin à ArtBakery, au côté de Goddy Leye. Ayant participé à de nombreuses résidences au Togo, Mali, Ghana, Cameroun, Botswana, ou Colombie Espagne, Allemagne , elle est une artiste polymorphe, pratiquant la peinture, l'installation, et la vidéo avec toujours, au cœur de ses recherches, la solitude comme exploration intime et formelle.
Lauréate de cultures France ( visa pour la création) , Gaborone , Botswana 2008
Lauréate Bourse Unesco , Medellin , Colombie 2010
Deuxieme prix Biennale de Dakar 2014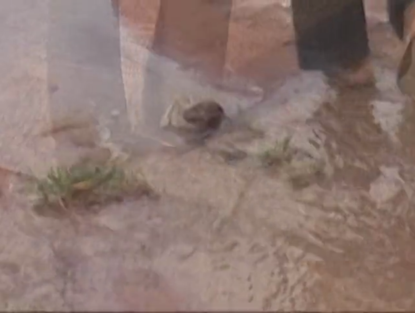 Kai Lossgot (RSA)
Award-winning artist, writer, curator and educator Kai Lossgott works across media, investigating the mark in the landscape as metaphor for human presence and its con- sequences. He collaborates with natural processes, industrial machinery and non- human life-forms in exploring the consumption and destruction of organic materials as well as human consumer waste.
His work has been widely exhibited both locally and abroad. His curatorial projects include the internationally touring artists' film programmes CITY BREATH (2010) and LETTERS FROM THE SKY (2012).
The artist holds tertiary qualifications in dance theatre, documentary film, creative writing and fine art, all cum laude, including an MA from the University of Cape Town. He has written and edited tertiary coursework and lectured at various South African universities, as well as facilitating community arts initiatives. German by birth (1980), South African by upbringing, Lossgott currently lives and works between Johannesburg and Berlin.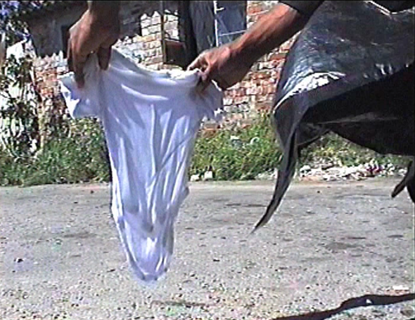 Maimuna Adam (Mozambique)
Maimuna Adam (b. Maputo, 1984) completed the BA in Fine Arts at the University of Pretoria in 2008. She is interested in exploring historical and personal narratives of displacement and migration, its effect on the individual as well as how memory, emotions and objects relate to these stories.
Her video "The Curtain" (2009) received an Honorary Mention award at the Bienal TDM'09 exhibition. She took part in the first "Ocupações Temporárias" project in 2010, installing drawings on paper and the video "Role" ("Papel") at Minerva Central Bookshop's flagship store in Maputo. She taught drawing at the Instituto Superior de Artes e Cultura in Machava from 2010 to 2012.
The artist took part in the residency for the VI Bienal of Art and Culture, São Tomé & Príncipe in October 2011. In 2012 she collaborated with german artist Cornelia Enderlein on a mural, photographic installation and video artwork at ICMA (German-Mozambican Cultural Institute) for the MUVART'12 Bienale in Maputo. She won the 2nd Edition of the Fundação PLMJ CPLP Video-Art Award in 2012.

Téshim & Frank Mukanday (DRC)

Vincent Bezuidenhout (RSA)
Vincent Bezuidenhout is a visual artist born in Bloemfontein, South Africa. He attended the Michaelis School of Fine Art, University of Cape Town, where he obtained a Masters Degree in Fine Art with distinction.
Bezuidenhout was the recipient of the 2010/11 Tierney Fellowship, which led to his first solo exhibition Separate Amenities at Whatiftheworld Gallery in 2011. His work has since been included in numerous exhibitions and in 2012 he participated in the artist-in-residence program at the Cité Internationale des Arts in Paris. In 2013 Bezuidenhout was awarded a bursary to attend the Photoglobal Programme at the School of Visual Arts in New York.
Bezuidenhout's work is included in a number of public and private collections throughout the world. He lives and works between Cape Town and New York City.